ICT hosts Aerospace Engineering rocket competition
The University of Illinois Urbana-Champaign's Department of Aerospace Engineering hosted a vertical landing rocket competition at Illinois Center for Transportation on November 12.
The event, made possible by a Department of Defense research grant, aims to build and enhance interest in space-related STEM technologies for high school and college-level students.
"The principal objective of this program is to inspire a younger generation to get involved in Aerospace projects, get an understanding of what that means for their careers, and then go off and work for the Department of Defense on a variety of programs," said Michael Lembeck, Aerospace Engineering faculty sponsor.
Teams of students from Illinois State University and UIUC gathered to build model rockets and to test them by trying to land them vertically.
For UIUC student Juan David Campolargo, the competition was a "really cool" opportunity to work with vertical landing rockets.
"The competition allows us to use the same physics and technology that help the (Falcon 9) rocket return to its launch site for reuse on a later flight," Campolargo said.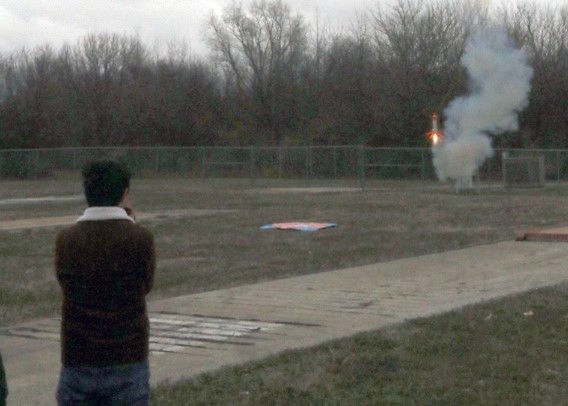 Several awards were provided to competing teams for aesthetics, closest landing to the target and surviving a landing.
Campolargo's team landed their model vertically, but then tipped over on the spongy ground cover. A photo of their landing is shown to the right.
ISU earned first place for best-looking rocket and closest landing to the target.
The event was organized by Aerospace Engineering's Michael Lembeck, clinical associate professor, and Heather Arnett, STEM coordinator.
All launches were in accordance with the National Association of Rocketry's safety code and in compliance with the Federal Aviation Administration.