Electrifying times in transportation
By Konstantina (Nadia) Gkritza on 10/21/2021 from 2 p.m. to 3 p.m. in 1611 Titan Drive Rantoul, IL 61866
Join Konstantina (Nadia) Gkritza, professor at Purdue University's Lyles School of Civil Engineering, as she presents on Zoom at the Fall 2021 Kent Seminar Series Thursday, Oct. 21, from 2-3 p.m. (CT).
Pizza and soft drinks will be provided beginning at 1:30 p.m. in the ICT Classroom.
All presentations will be held on Zoom, but some speakers will present in person at ICT. Check here for each week's Zoom credentials, speaker abstracts and bios, and updates as to whether or not presentations will be held in person or online via Zoom.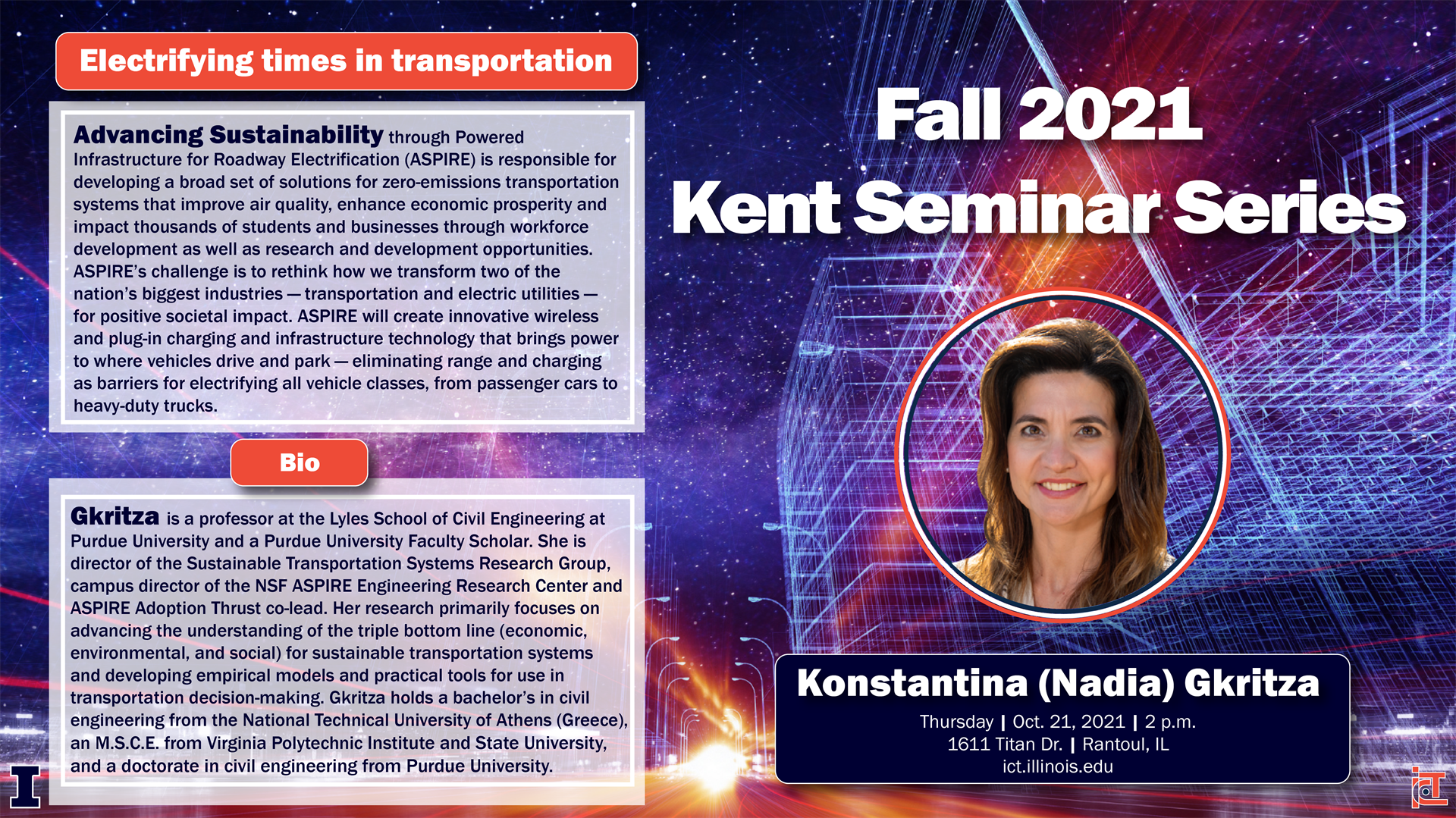 Join Zoom Meeting
https://illinois.zoom.us/j/86229663053?pwd=NzFMMkhCOXVVWFNBNTJoUXE5SWFTQT09
Meeting ID: 862 2966 3053
Password: 152708
One tap mobile
+13126266799,,86229663053# US (Chicago)
+14703812552,,86229663053# US (Atlanta)
Dial by your location
+1 312 626 6799 US (Chicago)
+1 470 381 2552 US (Atlanta)
+1 646 518 9805 US (New York)
+1 651 372 8299 US (Minnesota)
+1 786 635 1003 US (Miami)
+1 929 205 6099 US (New York)
+1 267 831 0333 US (Philadelphia)
+1 301 715 8592 US (Washington DC)
+1 470 250 9358 US (Atlanta)
+1 602 753 0140 US (Phoenix)
+1 669 219 2599 US (San Jose)
+1 669 900 6833 US (San Jose)
+1 720 928 9299 US (Denver)
+1 971 247 1195 US (Portland)
+1 213 338 8477 US (Los Angeles)
+1 253 215 8782 US (Tacoma)
+1 346 248 7799 US (Houston)
+1 647 374 4685 Canada
+1 647 558 0588 Canada
+1 778 907 2071 Canada
+1 438 809 7799 Canada
+1 587 328 1099 Canada
+49 695 050 2596 Germany
+49 69 7104 9922 Germany
+49 30 5679 5800 Germany
+82 2 6105 4111 Korea, Republic of
+82 2 6022 2322 Korea, Republic of
+44 203 481 5237 The United Kingdom
+44 203 481 5240 The United Kingdom
+44 131 460 1196 The United Kingdom
+81 524 564 439 Japan
+81 3 4578 1488 Japan
+61 3 7018 2005 Australia
+61 8 7150 1149 Australia
+61 2 8015 6011 Australia
+52 554 161 4288 Mexico
+65 3165 1065 Singapore
+65 3158 7288 Singapore
Meeting ID: 862 2966 3053
Password: 152708
Find your local number: https://illinois.zoom.us/u/kdJKU7ZqMp
Join by SIP
Join by H.323
162.255.37.11 (US West)
162.255.36.11 (US East)
221.122.88.195 (China)
115.114.131.7 (India Mumbai)
115.114.115.7 (India Hyderabad)
213.19.144.110 (Amsterdam Netherlands)
213.244.140.110 (Germany)
103.122.166.55 (Australia Sydney)
103.122.167.55 (Australia Melbourne)
209.9.211.110 (Hong Kong SAR)
64.211.144.160 (Brazil)
69.174.57.160 (Canada Toronto)
65.39.152.160 (Canada Vancouver)
207.226.132.110 (Japan Tokyo)
149.137.24.110 (Japan Osaka)
Meeting ID: 862 2966 3053
Password: 152708
Join by Skype for Business